in a beautiful spot

"Tír na Meala" is Irish and translates into "Land of Honey". The B+B is a former honey farm and there are still active beehives on the grounds. A local artist (Pauline Dodds) painted the four seasons of beekeeping on the ceiling of the guest used library.
The house is under German-Irish management and has a friendly and comfortable interior. Each of the five guestrooms is dedicated to a specific colour and has its own bathroom. Guests are also welcome to relax in the peaceful environment of the library and the natural garden with two nature ponds.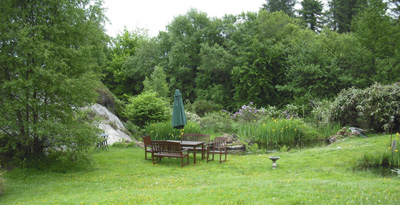 Organic and wholesome food
You may find the dining room one of your favourite places as we emphasize organic and wholesome food, both very tasty and healthy. So, start your day with freshly made muesli out of organic grain, seeds, fresh fruit, nuts and cream, delicious pancakes with maple syrup and homemade bread out of freshly milled organic grain. Certainly you also have the option of a traditional Irish fry.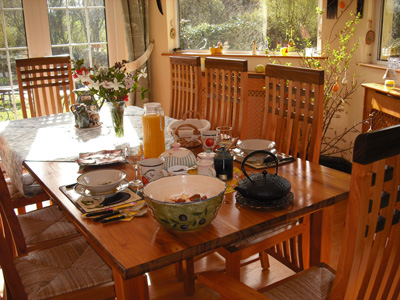 Out and about
You will be perfectly prepared for either exploring one of the five spectacular peninsulas of southwest Ireland or maybe a day trip to Cork City which is only 50 minutes away. There are also some picturesque towns to discover, like Dingle, Killarney, Kenmare and Bantry.
Nearby you also find the famous Guagán Barra Forest Park, ideal for hiking tours. It is also the source of the river Lee where St. Finnbarr established his first monastery in the 7th century, which is a picturesque well known spiritual place with a little mountain lake and church.

The area
The B+B itself is located in the Múscrai Gaeltacht area, one of the few remaining Irish speaking regions of the country. Cultural events in Coolea include: sheep shearing competition, regular traditional Irish music pub sessions and art exhibitions. One of the four local pubs is located on the border between Cork and Kerry and is in fact the highest pub in Ireland.

Cycling
If you like you can also take one of our bikes out and cycle along the historic Beara Breifne Way which comes within a short distance of our B+B or just take a stroll through the beautiful country side and meet our friendly farmer neighbours who are always ready for a little chat.
We also offer overnight accommodation for bikers on tour. Your bike can be stored in a safe place and we will wash your cycle gear for a fresh start next morning.

Swimming pool
Coolea is one of the rare communities in Ireland that has its own public open air heated swimming pool, so if the weather permits why not go for a relaxing swim.

Group requirements
For parties/groups in our house we provide a free of charge workshop whichcan be used for different courses.
How to reach Tír na Meala
You can travel to Ireland via plane, bus or ferry, arriving in Dublin, Killarney (Kerry airport), Rosslare or Cork. The house is within easy reach from Cork and Killarney, both by car as well as by public transport. Tír na Meala is situated 5 kilometers from the N22Cork-Killarney road near Ballyvourney and the Cork-Kerry border.
If you arrive by plane in Cork or Kerry airport we would also arrange to pick you up.
A warm welcome
Ireland is famous for its cordial atmosphere and its hospitality and it is our aim to let you experience this at first hand.
We will do our utmost to make your stay an enjoyable one.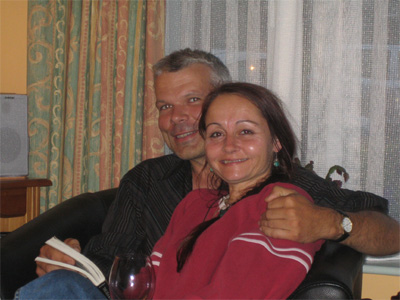 Susanne Duerr
Dave Costello

Accommodation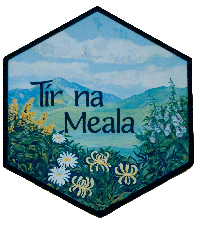 Tír na Meala
Coolea,
Macroom, Co. Cork
Ireland
+353 85 1499 681
info@tirnameala-coolea.com









© 2003-2013 by HJsK
Bed & Breakfast in Southwest Ireland